Information on Altea Hills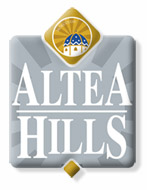 Altea Hills is a premium residential resort located in the pearl of the Costa Blanca: the town of Altea. This well know resort is just 60 kms north of the international airport of Alicante and just 15 kms north from the world famous town of Benidorm.

With enviable views over the Bay of Altea and protected by the Sierra de Bernia, Altea Hills is one of those few residential estates with its own personality where homeowners can enjoy the Mediterranean lifestyle in all its glory.

Relaxing activities, comfort, dream homes, natural surroundings and good connections with the rest of Spain and Europe, as well as excellent services and infrastructure, form part of the identity of this unique complex.

Rational luxury and high-quality home design on the Costa Blanca have joined forces in Altea Hills.
The peace of mind of 24 hour security
The safety and security in Altea Hills is a very important issue. The surveillance systems as well as the security personal qualification have been carefully selected.

The complex has a 24 hours, 365 days a year, man-guarded security entry. A Closed Circuit Television System monitors all areas and several patrol cars control the perimeter of the complex. It also has a license plate control system for all vehicles entering and leaving the complex.

In Altea Hills visitors can enjoy and completely relax with total peace of mind.
Environment
One of the major attractions of Altea Hills is its excellent location, close to a town centre, but with all the peace and quiet of the mountains.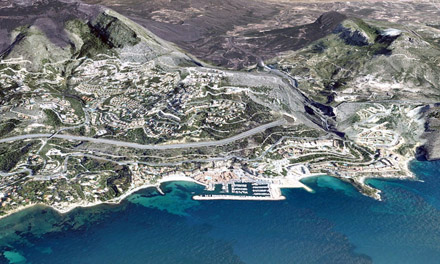 This is a unique site on the Costa Blanca, were residents can enjoy the fresh air and the aromas of nature, the intense colours of the Mediterranean and a unique panorama of the Bay of Altea.

Altea Hills has its own special microclimate, with mild winters and temperate summers that invite you to enjoy a healthy life in the open air at any time of year, and take in practically all kinds of sports and activities, such as light sailing, windsurfing, cruiser sailing, swimming, golf, tennis, trekking, scuba diving, fishing, etc.
Homes
Properties in Altea Hills radiate wellness. The Mediterranean-style architectural designs available here integrate aesthetics, functionality and safety. Quality standards and the attention to detail can be appreciated both in indoor and outdoor finishes, as well as in the carefully conceived aesthetics of the entire estate. Both private homes and communal areas have a complete range of equipment for total enjoyment, as well as premium building materials and excellent finishes.

One of the biggest advantages of Altea Hills is the possibility to choose from a wide variety of homes which are all adapted to the personal needs, tastes and available resources of each customer. In addition to the bungalows and luxury villas, Altea Hills offers a variety of different presidential models built in limited groups of homes, with spacious layouts and communal areas conceived for privacy.

The result of all this is an advanced urban planning concept intended for quality at the highest level for residences on the Costa Blanca.
Facilities
The strategic location of Altea Hills, set between the sea and mountains, ensures that this residential area is entirely unique. Very close to the estate is Don Cayo Golf Club and the prestigious Greenwich Sports Marina, one of the finest sporting ports on the entire Mediterranean coastline.

In addition to this, Altea Hills also has among its facilities the luxury Altea Hills Resort Hotel, an outstanding Tennis Club and an exclusive Spa Center for health and beauty, which is visited by famous artists and sportspersons from around the world.

Altea Hills also has two restaurants, a café, three bars, three outdoor swimming pools, in addition to pools in each residential area, plus a heated indoor swimming pool and children's playgrounds.
Don Cayo Golf Club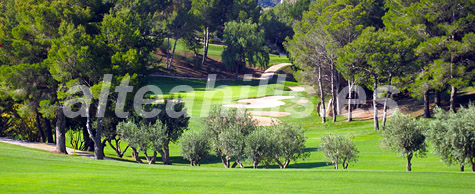 The Don Cayo golf course has nine holes in a privileged setting between pines and the tranquility of the Sierra de Altea.

It is two kilometers from Altea Hills and it offers golf classes, a shop, a large restaurant capable of organizing any event and several business rooms.
Marina Greenwich
This exclusive marina is located two kilometers away from Altea Hills. It takes the name of Marina Greenwich becouse it is the only marina in the world that lays right on the Greenwich meridian (longitude 00º 00 '00''). Few steps towards the mountain and you'll find yourself in the West; few meters to the sea and you will be in the East.

Located in the bay of Altea, one of the most beautiful in the Mediterranean, Marina Greenwich offers a wide range of services for the navigator: perfectly equipped moorings, rental and sale of boats, yacht club, restaurants, cafes, chillout pubs, shops etc.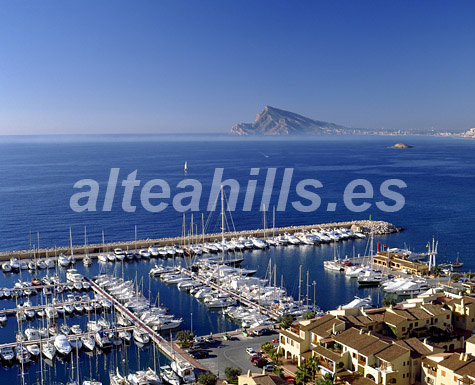 The unique ocher architecture of this marina perfectly fits with the color of the rocks, trees and sea.
Spa Center
Located in the Altea Hills Hotel is one of the most prestigious health and beauty centres in Europe. Coordinated by experts in sports medicine, the Spa Center is the preferred destination of professional sportspersons who come to this centre for cures and specific massages. Its magnificent installations guarantee that both residents within the estate and visitors to the hotel can enjoy all the pleasures of this health-oriented environment.

The variety of cures, massages and treatments is very extensive. There are baths with marine salts, aromatherapy, algae baths, saunas, hydro massages, face and body treatments, relaxation and slimming massages, and electrotherapy cures, to name just a few. Customers receive totally personalised treatments, and before starting on any course of therapy have an in-depth interview with a specialist.

The Spa Center also offers specific treatments, such as relaxation cures for groups of executives or businesspersons, cures for golf fans, alleviating aches and pains caused by frequent practice, or treatments specially devised for women, such as the 'New Mother' course for women following childbirth, or the 'Radiant Bride' course for women to look their absolute best just before marriage.
Services
Altea Hills offers a high level of security and comfort for homeowners. This residential environment has a complete optional services infrastructure, and these are managed in a personalised and efficient way so that all residents can enjoy their stay at any time of the year with complete peace of mind.

Altea Hills Global Services is the real estate services company at Altea Hills. Its purpose is to provide greater returns on a customer's real estate by offering a complete range of complementary services such as:

- Permanent round-the-clock surveillance
- Renting services
- Payment management
- Property maintenance: swimming pool, gardening, washing... .
- Construction work and repairs
- Car hire
- Insurance
- Real estate services
- Building and property management
- Integral home services: catering, cleaning, babysitters...
COSTA BLANCA – The perfect place to live
Located in Eastern Spain within the Province of Alicante, The Costa Blanca lies in the southernmost of the three provinces that comprise the Region of Valencia. Famous across the globe as a tourist resort, this is the destination chosen every year after year by many visitors for its countless natural and attractive features, excellent quality for money and the first rate standard of living that can be enjoyed in this protected area.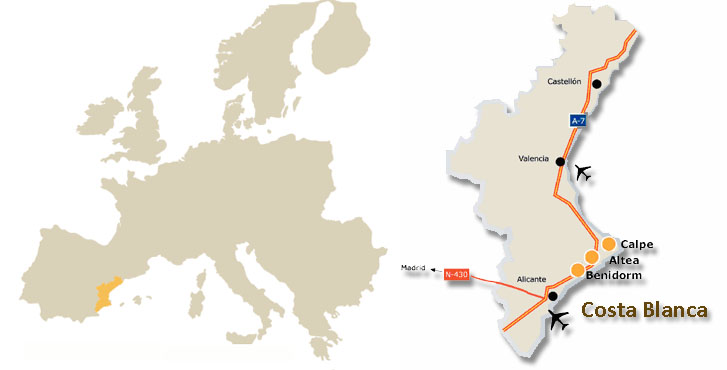 Famous worldwide for its excellent climate, recommended by World Health Organization experts, its famous beaches are awarded the blue flag in recognition of compliance with European Union ecological standards, year in, year out. The Costa Blanca is also held in high esteem on a world-wide scale for its delicious and remarkable cuisine. Its paella, rice dishes, fish and seafood, fruit and vegetables from orchard gardens together constitute the cornerstones of the Mediterranean diet – a diet acknowledged by leading experts in nutrition to be the healthiest way to eat.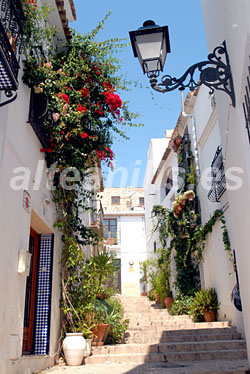 Benidorm, Altea and Calpe are truly emblematic places. But although the sea contributes a great deal to the character of the Costa Blanca, the area has far more to offer. The historical heritage of its past, its cultural heritage and the vast variety of its ecosystem provide a remarkable variety of resources that lend great appeal to the inland areas with landmarks that include majestic castles such as that of Villena, secluded villages like Guadalest perched on mountain tops, mountain ranges, peaks and hills ideal for outings and hiking, historical monuments famous around the world like the Dame of Elche and a series of interesting museums.

Whilst remaining true to their ancestral origins, the towns on the Costa Blanca have nevertheless adapted their services to move with the times. In addition to restaurants and hotels of all categories, there are also outstanding sports and active leisure facilities including golf courses, marinas, riding schools, sailing and scuba diving schools, yachting clubs, hiking clubs, fishing areas plus countless other activities.

This perfect combination of progress with the past, and the simple yet friendly nature of the inhabitants, blend in with a wide range of ancient festivals and customs that are always open to outsiders and breathe life and color into all seasons of the year.

This is the Costa Blanca. A protected área of remarkable natural beauty that moves with the times and yet keeps the traits of its own personality alive. The perfect place to live all year round or to spend a well-deserved holiday.
ALTEA – The magic of the Mediterranean culture
Altea: a refuge of light, color and vibrant sensations springing from its beckoning scenery and steep, winding coobled streets. Tiny streets bedecked with shops brimming with local crafts, art galleries and viewpoints inviting you to relax.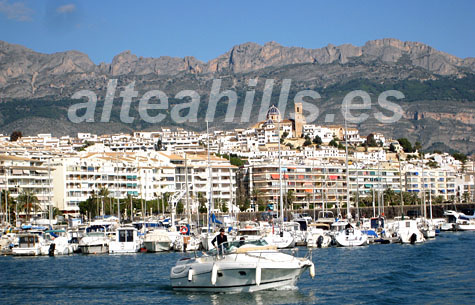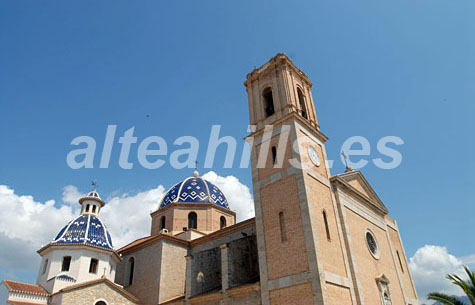 Traditionally a fishing village, no other town has managed to take progress in its stride like Altea, maintaining the steady rhythm of its seaward-oriented character. A magnificent cluster of monuments crowned by the dome of the old church constitutes the ancient town Centre, ideal for a stroll at any time of the day. Night-time has a special charm and dining in one of the local restaurants of having a drink on one of its open air balconies is a particularly enjoyable experience.
Nature lovers will find Altea to be very attractive with its unusual pebble beaches such as La Olla, its peaceful coves like Soio, and its mountains like Sierra Bernia – ideal for interesting excursions. It is no coincidence that painters and artists from all over Europe often choose this enclave as a hideaway in which to seek inspiration, and that many often stay for extended periods.
Altea – Facts and figures
Population: 25.000
Surface Area: 32,63 km2
Altitude: 61 m
Distances
Airport: 61 km
Alicante: 51 km
Benidorm: 10 km
Valencia: 110 km
Madrid: 460 km
Barcelona: 470 km
Transport
Road: Motorway A-7. Nacional N-332 (A-Road).
Coaches: Excellent links to Alicante and Valencia and intermediate towns.
Rail: Narrow gauge – Alicante-Denia and intermediate towns.
Air:International airport 60 km away - Alicante
Beaches
Cap Blanc.
La Roda.
Cap Negret.
L'Olla.
La Solcida (nudist beach)
La Barra
The coves of La Barra and Morro de Toix
Places to visit
Ancient town center
Old Altea (Altea La Vieja)
Fishing port and Yacht Club
Luis Campomanes marina (Marina Greenwich)
Craft shops and stores
Street market: Tuesday mornings
Marinas
Altea's Yacht club
Puerto Deportivo Luis Campomanes (Marina Greenwich)
Sports
| | | |
| --- | --- | --- |
| Sailing | Motorboating | Water Skiing |
| Fishing | Pelota Valenciana | Handball |
| Futbol | Tennis | Golf |
| Scuba diving | Pigeon breeding | Basketball |
| Hang gliding | Trekking | Mounting climbing |
| Bicycle touring | Horseback riding | Yoga and Pilates |
| Swimming | Bungee jumping | |
Fiestas
Moors and Christians in honour of St. Blas y Christ of the Tabernacle during the last week in September.

Firework festival in the La Olla área (mid August)
Gastronomy
Cargols amb ceba (snails), cruet de peix y erizos, coca a la lluma and a large variety of rice dishes.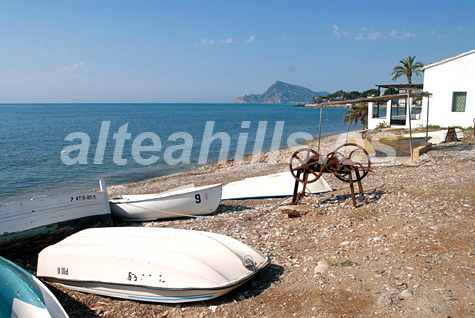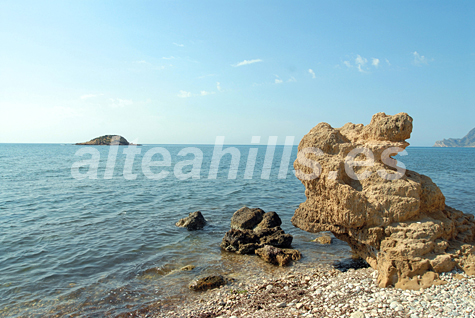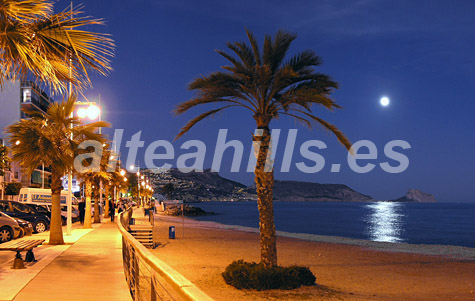 CALPE – The symbol of the Costa Blanca
Protected by the majestic and gigantic outcrop of Peñon de Ifach – one kilometer out at sea and soaring 332 meters into the air – Calpe is one of the most spectacularly beautiful places in the entire Mediterranean. Back in the 1930's, writers like Hemmingway found the inspiration in this area to breathe life into their marvelous literary creations. Today's Calpe however is not just bare rock and beauty. Within the reach of the giant rock lies the town, a former fishing village that has gradually developed into a great tourist destination whose growth is restricted, held in high esteem by German, English and French visitors who often set up their permanent residence there.

Its marine traditions provide visitors with a delicious cuisine based on freshly caught fish and seafood and also rice dishes to suit the diner's palate. Sports enthusiasts find this the perfect spot to go sailing, scuba diving or fishing, or enjoy the golf courses in the near proximity.

Calpe has also a very reasonable range of utilities and leisure activities. Its attractive historical centre bears traces of prehistoric cultures such as the Iberians, Phoenicians and Romans. The town also offers a wide range of accommodation including hotels, hostels, houses, bungalows, flats and flatlets to rent and even nearby campsites. All this combines to make Calpe a residential área in which to enjoy pleasent stays in surroundings ideal for admiring the scenery and going on unforgettable outings, alternating excursions with a wide range of activities.
Calpe – Facts and figures
Population: 30.000
Surface Area: 23,59 km2
Altitude: 58 m above sea level
Distances
Airport: 72 km
Alicante: 62 km
Benidorm: 21 km
Valencia:105 km
Madrid: 460 km
Barcelona: 460 km


Transport
Road: Motorway A-7. Nacional N-332 (A-Road).
Coaches: Excellent links to Alicante and Valencia and intermediate towns.
Rail: Narrow gauge – Alicante-Denia and intermediate towns.
Air:International airport 70 km away - Alicante
Beaches
Over 11 kilometers of coastline with 3 kilometres of sandy beaches:
| | |
| --- | --- |
| Sandy Beaches | Pebble Beaches |
| Arenal | Del Peñon |
| Molí | Puerta Blanco |
| Cantal Roig | Calalga |
| Levante | Urques |
Places to visit
Peñon de Ifach.
Fishing port and fish market.
Yacht club.
Baños de la Reina.
Plaza de la Villa.
Torreón de la Peca.
Medieval church.
Archeological museum.
Fester museum.
Walls and facades of the old town center.
St. Salvador chapel.
La Cometa chapel.
La Casa Nova.
Salinas salt marches.
Marinas
Yacht Club with 291 berths.
Puerto Blanco at the Morro de Calpe with 60 berths.
Les Bassetes marina close to Levante beach with 70 berths.
Sports
| | | |
| --- | --- | --- |
| Sailing | Motorboating | Water Skiing |
| Fishing | Pelota Valenciana | Handball |
| Futbol | Tennis | Golf |
| Scuba diving | Pigeon breeding | Basketball |
| Hang gliding | Trekking | Mounting climbing |
| Bicycle touring | Horseback riding | Yoga and Pilates |
| Swimming | Bungee jumping | |
Fiestas
Fallas, in March.
Fiesta Marinera, in July.
Patron Saint, in August.
Patron Saint – Moors and Christians in October.
German beer festival in October.
Carnival in February.
Gastronomy
Calpe has plenty of restaurants to choose from, offering international cuisine and local specialties based on mainly fish and rice. Salazones, Putxero de polp, Llana de Calp, Paella, Arroz amb fesols i naps are just some of the most typical dishes, without forgetting the delicious cocas and traditional pastries.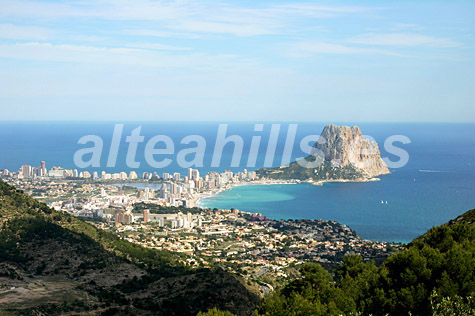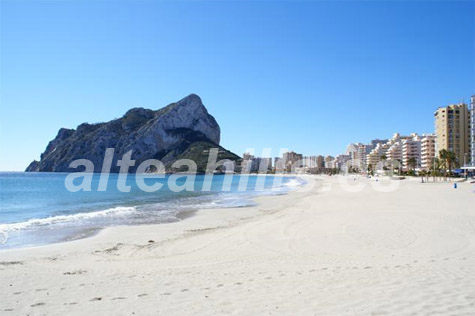 BENIDORM – Come alive in this bustling city
Besides being the meeting place in the Costa Blanca, Benidorm is, par excellence, the capital of European tourism. People of all ages and conditions found here the ideal place to meet, play and rest from stressful everyday life.

For many years, the beaches are being ranked among the best in the world. Benidorm features a great variety of restaurants, bars and night live entertainment for all ages. The white sand and clear water beaches are taken care daily for excellent preservation.
Levante beach, where there is a higher concentration of swimmers, is two kilometers long and is a show of human landscape diversity. Poniente beach, even longer, is quieter and runs from the old town to Cala de Finestrat.

In addition to a great variety of specialized services, the city has a historic center and long avenues that converge in an impressive shopping center.

Over the years Benidorm maintains its aura of health, fun and openness where youth, seniors and people of all ages harmoniously coexist. Its urban development and leisure services have learned to adapt over the years.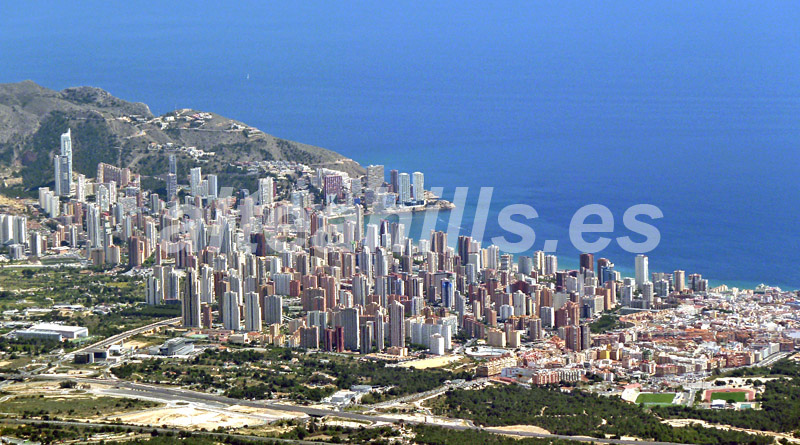 Benidorm – Facts and figures
Population: 73.000
Altitude: 15 m sobre el nivel del mar.
Marinas: 1
Distances
Airport: 51 km
Alicante: 41 km
Altea: 10 km
Calpe: 21 km
Valencia: 126 km
Madrid: 450 km
Barcelona: 480 km
Transport
Road: Motorway A-7. Nacional N-332 (A-Road).
Coaches: Excellent links to Alicante and Valencia and intermediate towns.
Rail: Narrow gauge – Alicante-Denia and intermediate towns.
Air:International airport 50 km away - Alicante
Beaches
Levante Beach
Poniente Beach
Cala Mal Pas
Cala Tio Ximo
Cala La Almadrava